Bulk Gases
Ensuring Ease With Experience
Middlesex Gases provides the most advanced and efficient bulk gas storage systems to fit your needs. As production increases in the ever-expanding industrial world many companies use at least 50,000 cubic feet of gas per month. Middlesex Gases specializes in providing the right bulk storage and supply for our clients.

We understand that the proper bulk tank sizing, piping and regulation equipment are integral components in ensuring consistent quality. We take on the responsibility of automatically filling these tanks so that you don't have to. All that with improved safety, less handling and considerable cost savings.

Our staff of experienced personnel will analyze your monthly consumption of liquids and/or gaseous usage, recommend the proper size tank, vaporizer, piping and regulation equipment. We can help you enjoy the benefits of the consistent quality and integrity of bulk gas systems.
Total System Supplier
We are committed to supplying our clients as a total system supplier for a turnkey installation.
Storage systems for most gases including:

Nitrogen
Argon
Carbon Dioxide
Oxygen
Hydrogen
Helium

On Site Inspections
Analysis of Customer Usage
Telemetry System
Vacuum Jacketed Piping
Outdoor Storage
Ground Storage Units Available
Service, Satisfaction, Savings
We perform total on-site inspections. From proper sizing and specifications of the cement pad to the fencing and lighting necessities, your exact needs will be met.

Automated telemetry systems ensure that your bulk tank is never empty, to provide a continuous supply virtually eliminate production down-time. We'll handle all deliveries for you.

Not only does bulk storage allows the client to eliminate costly cylinder handling and avoid potential injuries, but storing the gas product outside the manufacturing floor provides for more efficient use of space and lowers your product cost.
High Pressure - High Performance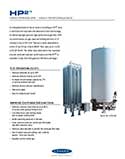 An integrated state-of-the-art system, including an HP2 tank, a multi-function vaporizer and advanced control technology for delivering high-pressure high-performance gas flow.
High Pressure - High Performance Tank

Integration In Industry
Our gas bulk storage systems are utilized in various industries and ensure quality and savings. Gas bulk storage systems allow you to manage your business more effectively.