Home >> >> COVID-19 Policies & Procedures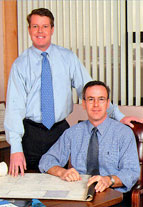 Pictured left to right:
Bo Martin, CEO and
Tom Martin, President.
COVID-19 Policies & Procedures
In the interest of communicating our current practices relating to the COVID-19 pandemic we wanted to share with you our efforts both at customer locations and here at Middlesex Gases' facilities.
The Cyber Infrastructure Security Agency (CSA) has issued "Guidance on Essential Critical Infrastructure Workforce" which specifically exempts the manufacture and delivery of medical gases from any declaration for business closure by the government. Our most important products are our compressed and cryogenic gases especially for our healthcare customers. We therefore believe Middlesex Gases will continue to operate during the "statewide stay-at-home advisory" issued by Governor Baker effective March 24.
Life Science Customers
We continue to make room deliveries as requested from customers. However, we respectfully exercise the option of making dock deliveries where our judgement determines a health risk may exist. Customers are asked to examine all cylinders being returned and decontaminated as necessary prior to coming in contact with our distribution personnel. This also applies to customers who may bring cylinders to any of our retail stores. We will not transport nor handle any cylinder which we feel may be contaminated with blood borne pathogens or other potentially infectious materials.
Middlesex would ask that our customers work with us during this time and order only what you have been in past history. When a customer panic orders and doubles the weekly amount this will lead to a shortage of tanks that will have an impact on your next order date. We are confident that if everyone treats this as business as usual and follows the normal order sequence, we will make sure your supply of gases are filled and delivered on time.
Our first priority is to supply our existing account base and make sure that their needs are filled. Middlesex is operating all three fill plants and will continue to support your needs to accomplish this objective. Thank you in advance in working with us, if you have any questions or concerns please don't hesitate to call us. Below is a brief outline of our internal policy.
The health and safety of both our employees and customers remains our top priority. We have issued multiple directives taken primarily from the Centers for Disease Control and Prevention (CDC) to our employees stating the following:
all Middlesex Gases business travel has been suspended.
Middlesex Gases sales personnel are directed to communicate with customers electronically wherever possible.
Any employee who has a fever (100.4 degrees F or greater) or flu like symptoms must remain at home and seek medical guidance. No one with a fever will be admitted on Middlesex Gases' property.
Posters are affixed to all entry doors to our property stating DO NOT ENTER if you have been around anyone diagnosed with COVID-19, if you have traveled outside the US in the past 14 days, or are experiencing "a cough, fever, or shortness of breath".
Additionally, any employee who is experiencing even a mild illness i.e. a cold must stay at home.
Also consistent with the CDC all personnel on company property should maintain a minimum of 6 feet distance from one another, avoid physical contact or any kind, wash hands and work areas regularly during the course of the day, and avoid touching your faces.
Cleaning supplies are stocked at all our locations for use as needed.
On a case by case basis employees who are able to work from home are doing so.
Decontaminating an Empty Cylinder
Please help Middlesex Gases Crush the Curve by following these 4 easy steps to ensure cylinders that may have been exposed to pathogens or bodily fluids have been decontaminated before pickup.
On and empty cylinder, close and cover the valve with plastic bag to ensure liquid does not enter the valve connection. Please note: This process should only be done on empty cylinders ready to be returned to Middlesex Gases.
Using hot water (not exceeding 122°) or Simple Green cleaning solution, remove any dirt or debris from the outside of the cylinder. Please note: only use water or Simple Green cleaning solution. Other cleaning solutions may contain hydrocarbons that can cause a fire in an oxygen enriched atmosphere.
Using isopropyl alcohol (rubbing alcohol) or equivalent wipes, please clean any area on the cylinder that you feel may be contaminated. This includes the valve handle, but not the connection. Please note: Only isopropyl alcohol (rubbing alcohol) is approved for this part of the decontamination process. Other cleaning agents containing ammonia, amine-based compounds, or chlorine-based compounds such as bleach can cause damage to the cylinder.
Please ensure that any excess isopropyl alcohol (rubbing alcohol) has been removed and is allowed to evaporate.
That's it! Please give your decontaminated cylinder to one of our friendly drivers to be returned! Middlesex Gases thanks you for your help in keeping our employees safe and healthy!
Industrial Customers
In order to continue to operate and provide to our customers in this difficult time, Middlesex is asking that the following procedures to be adhered to when visiting one of our branches to pick up supplies. Our goal is to continue to provide the services you need while maintaining a safe and secure atmosphere. Please take advantage of calling into the branch and pre-ordering your supplies prior to picking up so it will expedite the process. Below is the phone numbers of the branch locations:
Everett: 617.387.5050, Press 1
Framingham: 508.879.7820
Haverhill: 978.374.0141
Plainville: 508.699.2888
Lowell: 978.453.4440
Notice to All Customers – Effective April 2, 2020
All Middlesex Gases' buildings will be locked to all non-employees 24/7. Customers, vendors, and visitors will not be admitted to our facility. Instead they will be met at the loading dock or entry door by store employees. Transactions will be handled at the loading dock or entry door for cylinders and hard goods. Items from the store will be brought out by our employee to the customer. Signs will be affixed to our entry doors with an explanation. Customers will be encouraged to call ahead so their order can be ready for pickup. All vendors/ common carriers will not be admitted beyond our loading dock.
DURING THIS PANDEMIC OUR OBJECTIVE IS TO REMAIN HEALTHY BY REDUCING EXPOSURE TO OUR EMPLOYEES AND VISITORS.