New Products
The Middlesex Gases & Technologies team stays current regarding new products introduced to the industrial market. Those products will be added to the web site on a regular basis. Email notifications will also be sent to subscribers. If you are not currently on our email list, please sign up today!
Our team understands that your business depends on remaining competitive in the market. New products and techniques will assist you in that endeavor. Call any of our sales representatives for more information.
Middlesex Gases & Technologies is introducing the Sumig Titan-S innovative line of MIG welding guns. The 180-A and 260-A models have a lightweight, compact body that contains electric and thermal insulation.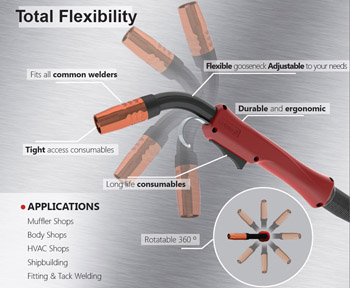 Click to Enlarge
The welding guns can meet the needs of a wide range of welding professionals from:
auto garages
muffler shops
body shops
HVAC shops
shipbuilding - shipyards
rail industries
fitting and tact welding
Benefits
Many styles & sizes (nozzles, gas diffusers, contact tips)
Trigger length & placement options; ideal for a variety of hand sizes
Ergonomic compact handle; reduces operator stress
Standard 54 degree and flexible goose necks
Interchangeable power pins for most popular wire feeders; no adapters required; Fits all common welders
Large & small rear insulators for various feeder connections
Power cable offers superior abrasion resistance & current capacity
Tight access consumables
Long life consumables
Durable and ergonomic
Flexible gooseneck - Adjustable to your needs
Rotatable 360°
FireIce Solutions stops fire before it starts. It is an eco-friendly, non-toxic, non-corrosive gel that instantly cools, provides long-lasting protection, has a long shelf life and wipes clean.
Unique Capabilities
Capable of fire suppression
Capable of fire prevention
Capable of withstanding extremely high heat
Prevents heat transfer
Limits steam production
Provides protective layer for adjacent surfaces with excellent adhesion
Reduces risk of accidental charring, burning or igniting
Example of Uses
Welding, plumbing, brazing including autobody and muffler repair
Commercial construction
Confined or crowded spaces
Ship repair & construction
Cell towers
Limited water situations
FireIce Shield blocks heat transfer and instantly cools. It protects adjacent surfaces while soldering, welding, and brazing while also reducing the risk of accidental charring, burning or igniting flammable materials up to 10,000°F.